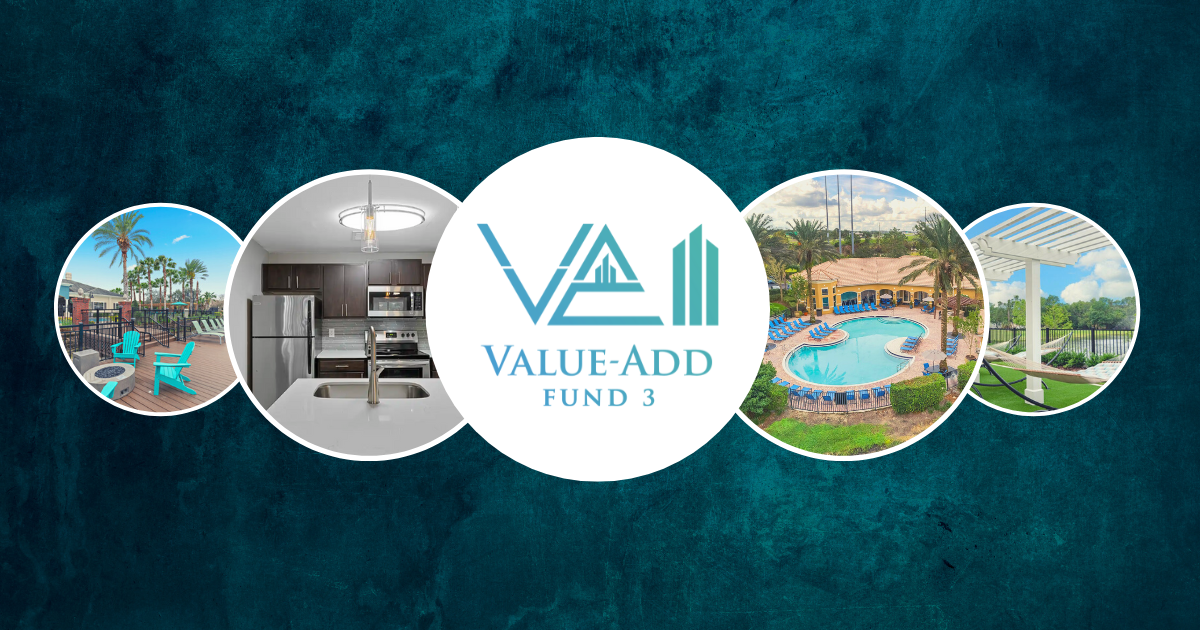 By: Travis Watts, Director of Investor Education
Today I want to discuss what the Ashcroft Value-Add Fund III "AVAF III" is, how you can potentially benefit from it, and the key differences between previous funds offered at Ashcroft Capital. 
AVAF III is a 506(c) real estate private placement investment opportunity for accredited investors. The fund is closed-end, which means once we raise the capital needed to acquire six to ten multifamily properties, the fund will be closed with no further properties or investors entering after that point. AVAF III is being offered on a first-come, first-served basis.  
The objective for the fund is to acquire six to ten multifamily apartment communities in high-growth and high-demand Sun Belt markets (currently Texas, Florida, Georgia, and North Carolina). Once we acquire an apartment community, we renovate, rebrand, and reposition it for resale. In other words, we are buying preexisting multifamily apartment communities and modernizing them to make them more efficient and to appeal to today's renter standards.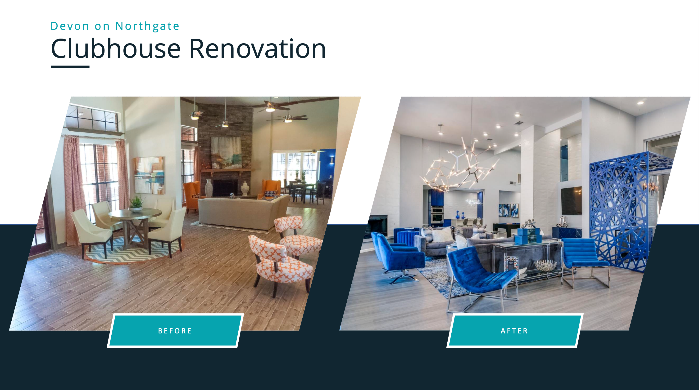 We target to hold these properties for five to seven years, and throughout the hold period, we offer investors monthly cash flow distributions and provide monthly updates. We also release full detailed financials every quarter.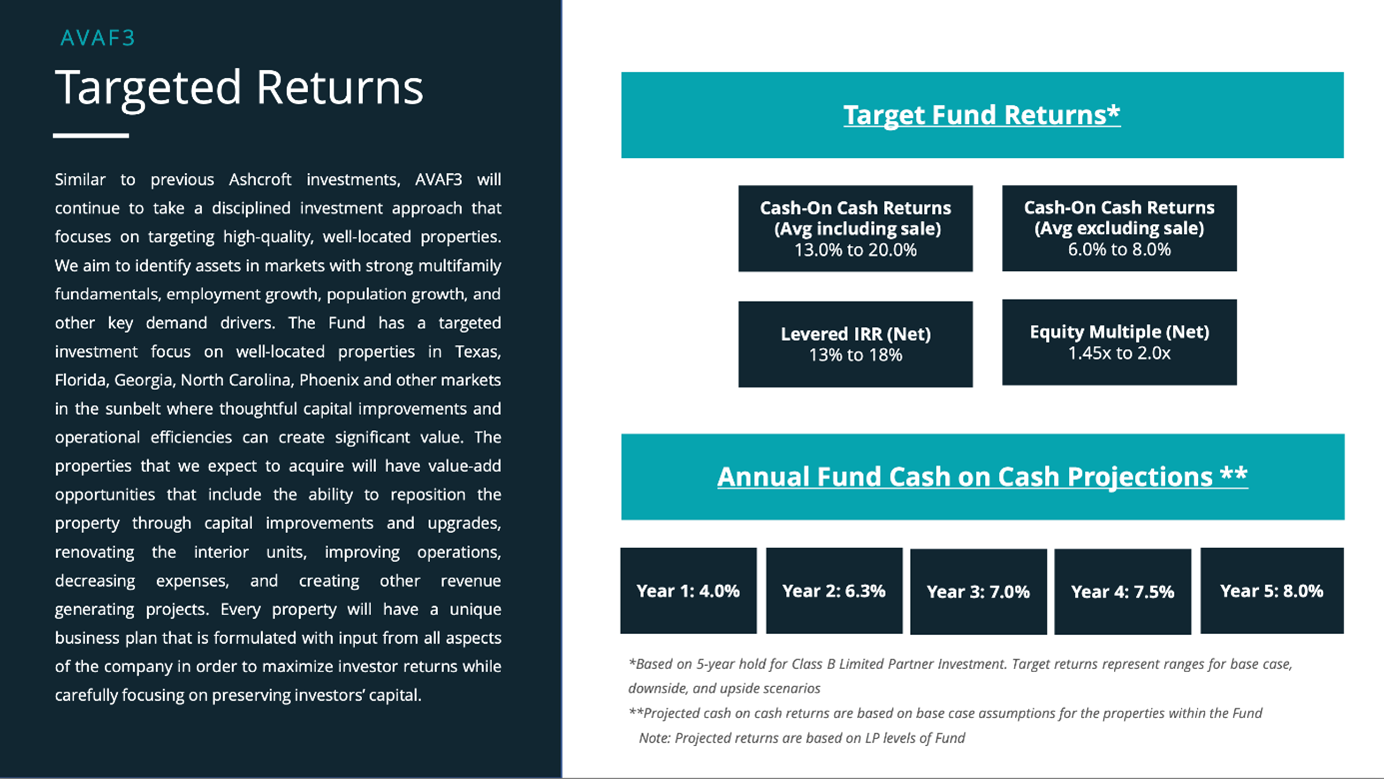 A couple of new, exciting updates on AVAF III that differ from AVAF I and II are as follows:
First, we launched this fund earlier compared to prior years. Historically, we have opened our funds for investment around January or February. In late 2022, we were able to get the first property for AVAF III under contract, and investors who got in early were able to benefit from the last year of 100% bonus depreciation. The bonus depreciation benefits are set to phase out over the next several years:
80% in 2023
60% in 2024
40% in 2025
20% in 2026
0% in 2027
Another exciting update is that we are offering investors preferential terms for investing larger amounts of capital. For example, in AVAF I and II, whether someone invested $25,000 (our minimum) or $1 million both investors had the same terms. A "coupon" is paid 100% to investors first, and then there is a 70/30 split on profits above the coupon rate up to a 13% IRR return and a 50/50 split thereafter.
In AVAF III, we are keeping the minimum investment low at $25,000 with the same split structure as before, but if you invest $100,000+, the split above the 13% IRR hurdle is improved.
See below for details:

Note that the splits shown above are applicable to the Class B shareholders participating in the appreciation and potential upside, not to the Class A shareholders. Class A investors receive a higher coupon amount at 9% annualized versus 7% and have limited to no upside on the equity appreciation.
The next difference in AVAF III is that we are starting to see discounts happening in the multifamily sector because of increased interest rates. We are transitioning toward a buyer's market, rather than a seller's market. The first deal that we closed in AVAF III (Midtown 501) was purchased at an approximate 25% discount relative to pricing one year ago in 2021. The current market shift creates a unique buying opportunity with a potentially small window of time to purchase multifamily assets at discounted prices, potentially throughout the year.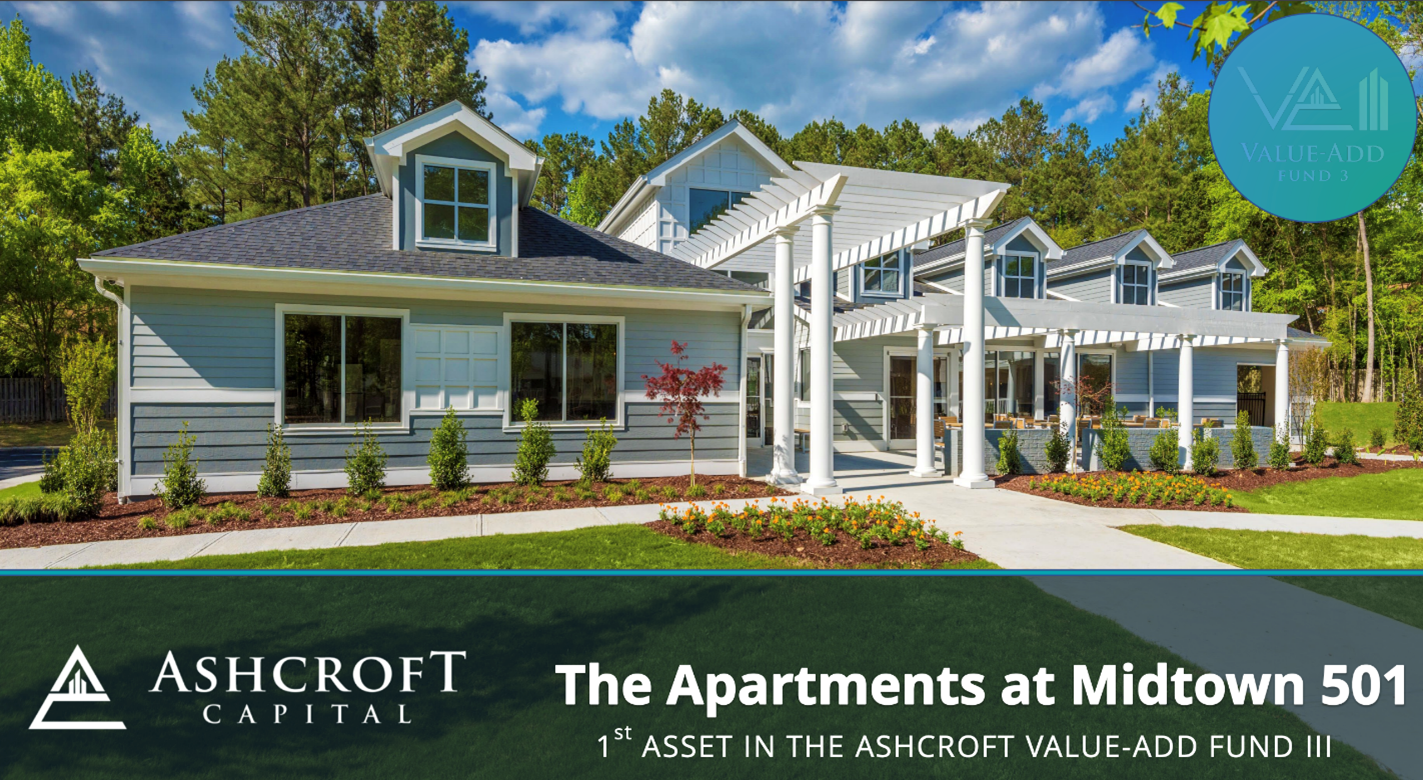 More exciting news is that we are expanding our markets with AVAF III. Midtown 501 is in a fantastic submarket of Raleigh–Durham, North Carolina. Historically, we have bought properties in Texas, Florida, and Georgia, and now we can offer investors even broader diversification by expanding into more Sun Belt markets.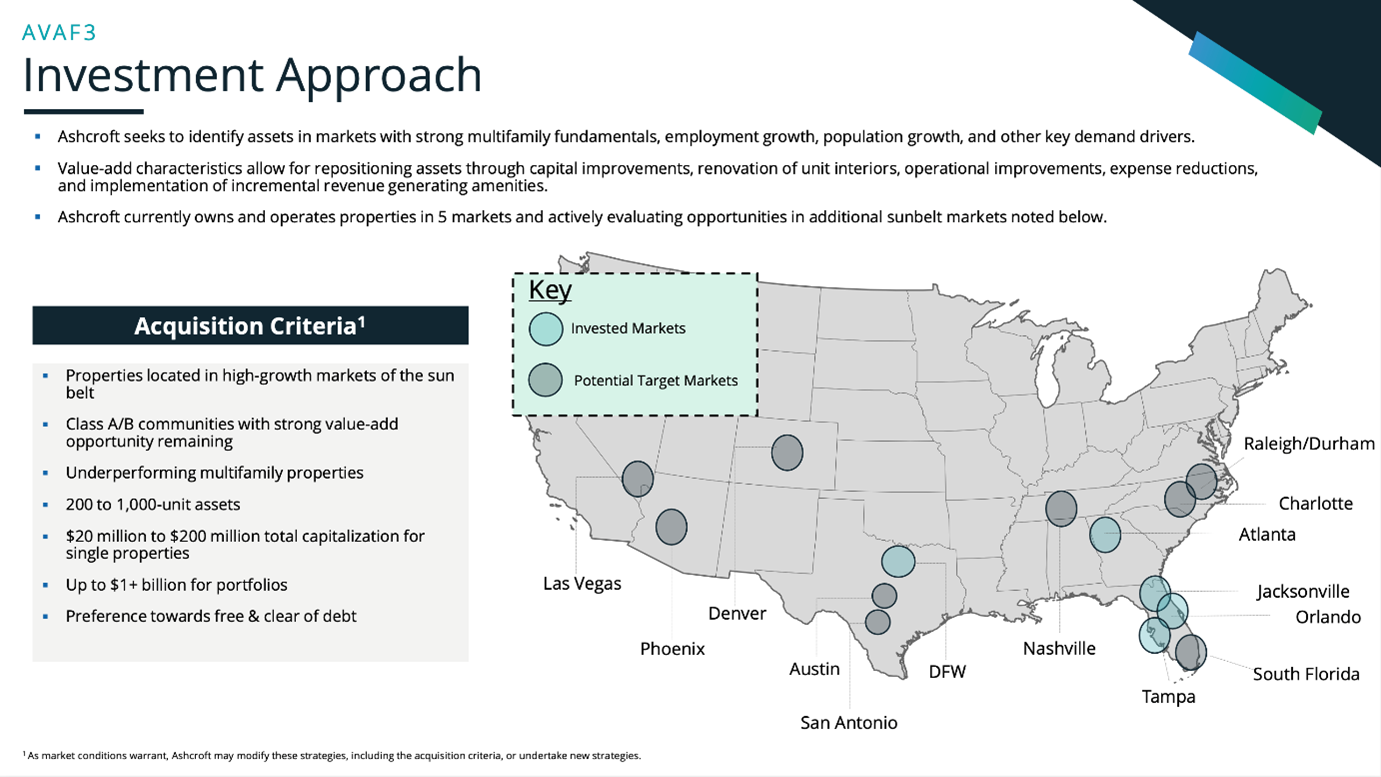 Our top priority at Ashcroft is capital preservation, meaning we will maintain strong property-level operations on each asset in the portfolio and focus all of our efforts on continuing this success in 2023. It is not only activity that we seek but also great assets at appropriate pricing. Good opportunities will present themselves, but we feel it is critical to remain disciplined and patient. And we believe the next 12 to 18 months will present great opportunities. Many economists predict that it is more likely than not that there will be some distress in the market. As owners seek liquidity and the bid-ask spread tightens, we foresee a window of opportunity to take advantage of some compelling acquisitions, and we will do so with a careful, highly selective approach. With all of this in mind, we are thrilled to bring you AVAF III. To learn more or get started now, please visit https://info.ashcroftcapital.com/fund.