Discover
The Ashcroft Difference
Ashcroft
at a Glance
Ashcroft's primary objective is to maximize our investors' returns from sourcing to managing assets through the synergies of our vertical integration of asset management, acquisitions, construction management, and property management.
Our Expertise
From our start in 2015, we focused on finding multifamily opportunities in Sunbelt markets that would flourish under our expertise in asset management, construction, and property management.
Our Markets
Our footprint spans across the Sunbelt markets with over 62 acquisitions since inception throughout Texas, Florida, North Carolina, and Georgia.
Our Headquarters
We are positioned for additional growth and expansion across the Sunbelt with our headquarters in New York City and regional offices in Dallas and Atlanta.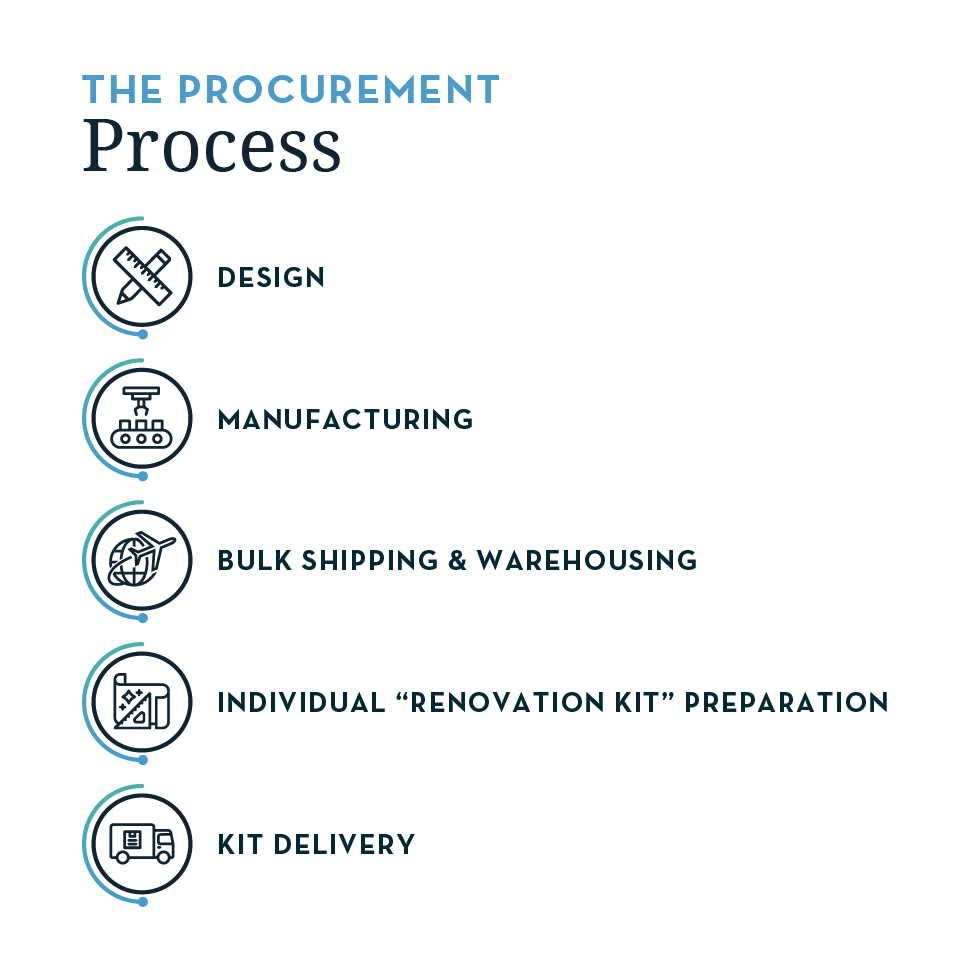 Our procurement process is a one-of-a-kind cornerstone that truly sets Ashcroft apart. This well-established and proven approach creates tremendous efficiencies, reduces costs by 34.7%, and helps us control supply chain issues. How? In four controlled steps, we have decreased our unit renovations timeline to sub-30 days.
The collaboration of Ashcroft's fully integrated platform enables us to effectively execute each property's business plan immediately upon acquisition. By renovating and reviving these apartment communities, we protect our investments from short-term market fluctuations and ground our returns in true value creation.
Source direct from manufacturers
Organize materials into individual unit renovation kits
Ship to our Birchstone warehouse
Disseminate to our communities
How we create alpha
For Our Investors
Asset Management

Our asset management team works hand-in-hand with our acquisitions team to create and execute unique business plans for each property. Throughout the hold period, our team focuses on maximizing NOI growth and additional financial opportunities that may arise as markets evolve by working with our property management teams.

Disciplined acquisitions

Our acquisitions process is designed to maximize investor returns while preserving an investor's capital through an ultraconservative approach to underwriting.

Value–Add Construction

Our construction management teams work hand in hand with asset management to renovate amenities and units to the market standard. The synergy with asset management has led to reducing turn time to less than 20 days in some markets.

Learn More

In-house management

Our property management company, Birchstone Residential, is focused on elevating the renter experience. The focus on culture at Birchstone permeates through our associates to our residents in every interaction. This engenders resident loyalty toward the brand and helps create new opportunities for additional revenue and higher returns for our investors.

Learn More
Ashcroft Invests in Top Markets with Booming
In-Migration Population Growth
Migration Opportunities
We run a proprietary, research-based economic study to identify the top U.S. markets best positioned for multifamily investment. Part of our research includes studying migration data to see where demand for apartments may grow.
There is a strong trend of Americans migrating from across the country to Sunbelt metros. Look through these visualizations of projected census data showing how people poured into major Sunbelt metros between 2016–2020.
Select a city to view below.
Current Markets
Our footprint spans across the Sunbelt markets with 62 acquisitions since inception distributed among Dallas, Florida, and Atlanta. With our headquarters in New York City and regional offices in Dallas, Atlanta, and Orlando, Ashcroft has an exceptional capacity to source and operate assets across the Sunbelt.
Current markets
Target markets
Ashcroft Capital LLC is not an investment adviser or a broker-dealer and is not registered with the U.S. Securities and Exchange Commission. The information presented herein should not be used as the sole basis of any investment decisions, nor is it intended to be used as advice with respect to the advisability of investing in, purchasing or selling securities, nor should it be construed as advice designed to meet the investment needs of any particular person or entity or any specific investment situation. None of the information presented herein constitutes legal, accounting or tax advice or individually tailored investment advice. The recipient of this information assumes responsibility for conducting its own due diligence and assumes full responsibility of any investment decisions.