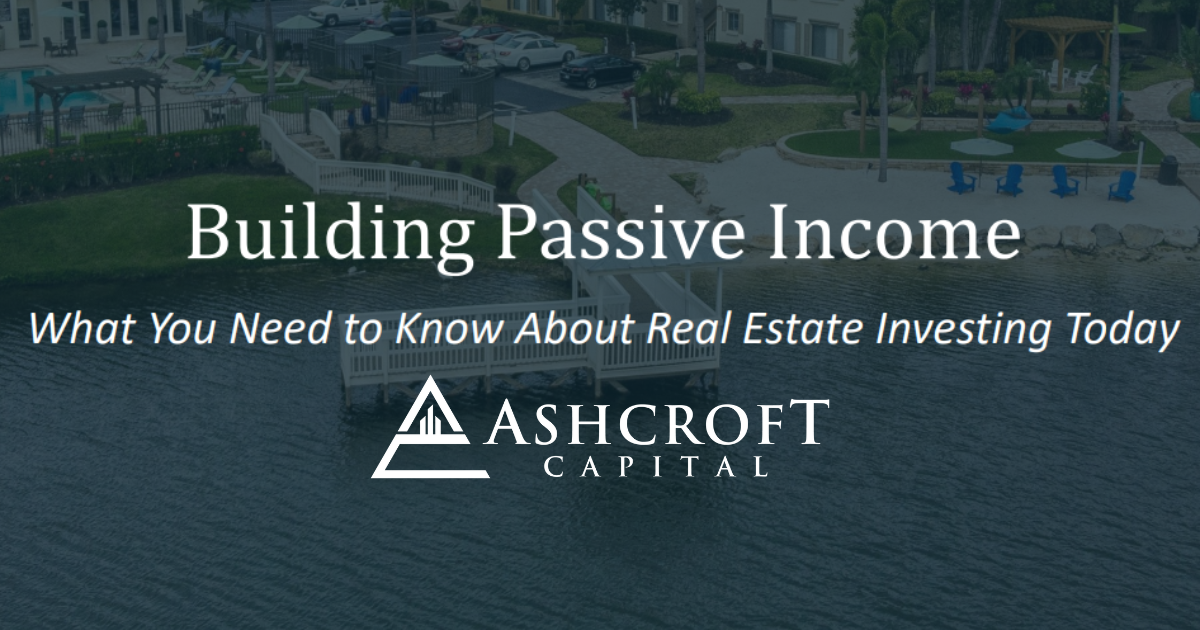 By: Travis Watts, Director of Investor Education
When asked to assess their financial knowledge, did you know 71% of Americans give themselves high marks, yet the data shows that only 7% can answer six financial literacy questions correctly? In fact, the financial literacy rate among Americans has decreased from 42% to 34% since 2009.[1]
At Ashcroft Capital, we are committed to educating investors on navigating commercial multifamily real estate investments. As part of our mission, we are hosting Building Passive Income Workshops around the country. 
When your passive income exceeds your lifestyle expenses, you are financially free.
If you are looking to create more passive income, you might want to consider the many benefits that real estate has to offer. Passive income investing is a way to put more money in your pocket while freeing up your time.
This strategy allows you to expand your lifestyle without the hassle of becoming a landlord. Investing in real estate is ideal for those who prefer a more conservative approach to growing and preserving wealth, and the great news is you can begin today even if you do not have past experience.  
At our Building Passive Income Workshops you will learn:
– The power of passive income 
– How to create passive income through real estate 
– How to become an investor, rather than a landlord  
Register for a workshop in your area today:
Fall 2023 dates to come
About Ashcroft Capital:
Ashcroft Capital currently manages 12,814 units throughout Florida, Georgia, North Carolina, and Texas. Our national reputation has attracted thousands of investors just like you.
We purchase well-located properties in Sun Belt states that need improvement. By improving the properties and focusing on operational efficiencies, we create value for our investors and our residents. Simply put, we do the heavy lifting for you so that you can focus your time on the things that matter most.  
Ashcroft Capital attracts and develops the best talent in the industry to serve our investors and residents while providing superior service. If you would like to learn more about investing in multifamily properties, please visit https://info.ashcroftcapital.com/fund or schedule a call with one of our investor relations team members today at investorrelations@ashcroftcapital.com.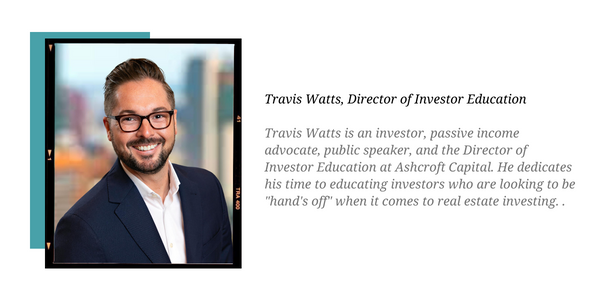 Sources:
The State of U.S. Financial Capability: The 2018 National Financial Capability Study, FINRA Investor 

Education Foundation, 2019. 
Workshop Disclaimer:
Ashcroft Capital LLC is not an investment adviser or a broker-dealer and is not registered with the U.S. Securities and Exchange Commission. The content shared throughout this workshop is for informational purposes only. You should not construe any such information or other material as legal, tax, investment, financial, or other advice. Any ideas or strategies discussed therein should not be undertaken by any individual without prior consultation with a financial professional for the purpose of assessing whether the ideas or strategies that are discussed are suitable to you based on your own personal financial objectives, needs and risk tolerance.