By: Ryan Wynkoop, Investor Relations Manager
Since the pandemic, midsize cities with tourist resilient economies are growing.  Raleigh is one of those areas experiencing record job, population, and economic growth. In 2022, Raleigh was ranked as the 6th best place to live in the United States and 1st best place to live in North Carolina based on the 150 metro areas analyzed.[1]
As the capital of North Carolina, Raleigh brings thousands of state government jobs to the area and boasts a 7,000-acre Research Triangle Park (RTP) that provides 55,000 jobs to residents at more than 300 companies. Additionally, the region boasts numerous opportunities in higher education, with colleges such as Duke University, the University of North Carolina at Chapel Hill, Wake Forest, and North Carolina State University, all located within the major metropolitan area. 
The submarket is known for its highly educated workforce, warmer climate, and bustling nightlife, making it one of the top midsize cities for multifamily investment in the United States. 
Population Growth  
The pandemic has demonstrated that many industries are able to not only sustain a remote workforce, but also to grow in spite of one. Modern day collaboration tools have allowed people to work together effectively, even from disparate locations. As a result, people are leaving larger, more expensive cities, like New York and Chicago, and relocating to midsize cities, like Raleigh.  
This is especially true for technology jobs, of which Raleigh is no stranger, laying claim to the largest research park in the United States. Historically, Raleigh has also been among the most inexpensive technology hubs in terms of median house prices in the U.S.[2] Nicknamed 'The City of Oaks,' the downtown streets are lined with mature trees, and the greater metropolitan area is home to almost 20,000 sq. ft. of green space per capita.[3] The temperate climate, along with proximity to both the mountains and the beach also acts as a major draw. 
In ten years, Raleigh's population of 400,000 has risen by 15 percent, and the state has seen the third highest migration, behind Florida and Texas.[4] The Raleigh metropolitan area is projected to grow from 1.4 million in 2022 to 2.6 million in 2060. In addition, the projected growth will rank 11th among 384 U.S. metro areas.[5] 
This huge population surge drives up wages and the demand for services, ushering in job and economic growth, and helps to create multifamily investment opportunities.
Job Growth 
A growing population is primarily supported by the employment opportunities in the area. In 2022, exponential job growth in Raleigh ranked the city as the third-hottest job market out of 300 metro areas in the country. This was based on job, labor-force and wage growth, labor force participation, and unemployment rate.[6] Raleigh's unemployment rates are lower than the national average, and the region's annual average income is similar to the national average. The shift away from major metros, availability of technology jobs, and opportunities in higher education have all helped fuel this growth. 
Research Triangle Park (RTP), the largest research park in the country, is a major economic driver with industries spanning technology, life sciences, manufacturing, and finance. Stretching over 7,000 acres, RTP is home to more than 300 companies that employ over 60,000 people. Even during the pandemic, when many physical locations shut down, Raleigh witnessed strong demand for office, life science, and lab space. More than a dozen major companies have relocated or announced expansions – this includes a new Apple campus, a Google engineering hub, and Fidelity adding 1,500 jobs at RTP.  
Over the next few decades, North Carolina is expected to grow its economy by more than $209 billion, with fifteen big businesses announcing their arrival in the last year, leading to the creation of 20,000 jobs over the next few years.[7]  
These continued corporate expansions and relocations have spurred job growth and helped to create a more affluent demographic, making Raleigh one of the top submarkets for multifamily investments.  
Economic Growth 
With employment expanding and the population growing to catch up, overall economic growth is never far behind. The Raleigh region's economy is supported by its large talent base and highly educated workforce, which has attracted billions of dollars of corporate investment over the last decade. The many major local universities produce thousands of graduates every year, many of whom enter the local workforce. After earning a bachelor's degree, nearly 80% of UNC graduates remain in North Carolina.[8] In fact, higher education supports so much of the growth and is so embedded in the area that Duke, UNC, and NC State are collectively known as 'University Triangle.'  
All these factors have contributed to Raleigh becoming the 7th fastest growing housing market in the country. It has also supported rental housing, with prices remaining up 4.8% year-over-year, even as rising interest rates and an economic slowdown has cooled off demand in other markets.  With a median price of $1,487 per month for a one-bedroom apartment, vacancies remain quite low compared to the last five years.[9]  
Steady job, population, and economic growth all contribute to Raleigh's investment appeal and help ensure long-term growth in housing demand and rents. 
Ashcroft Capital and Multifamily Investments 
At Ashcroft Capital, we have a proven track record of creating value through renovating, rebranding, and repositioning our investment properties. We buy existing cash flow-positive, institutional-quality properties in high-growth markets with strong multifamily fundamentals. 
 Our acquisitions team works closely with our talented asset management, property management, and construction management groups to formulate a unique business plan for every property acquired. The collaboration of Ashcroft's fully integrated platform enables us to quickly execute the property's business plan upon acquisition. 
 The Apartments at Midtown 501 (Midtown 501) is the first acquisition within the Ashcroft Value-Add Fund III. Midtown 501 includes 248 units and is located in the Chapel Hill submarket of Raleigh. Midtown 501 was built in 1975; however, an extensive transformation of the property was completed in 2015. The renovation fully modernized the amenities, units, and physical attributes of the property, leaving only minimal deferred maintenance. Midtown 501 provides Ashcroft the opportunity to focus efforts on operational improvements, maximizing income through minimal interior and exterior luxury upgrades.  
 Our other communities are located in some of the highest-growth markets within the Sun Belt, including: Dallas-Fort Worth, Atlanta, Orlando, Tampa, and Jacksonville.  
Ashcroft Capital's Real Estate Fund 
Real estate funds like the Ashcroft Value-Add Fund III (AVAF3) differ from other syndications by investing in multiple properties rather than a single deal. The fund is structured so that investments are allocated across multiple properties, creating diversified sources of return. 
AVAF3 is an open private placement fund for accredited investors interested in diversifying their retirement and wealth portfolios into multifamily real estate. Investors can invest in Class A and/or Class B Limited Partnership Interests. The AVAF3 is targeting 6-10 multifamily properties throughout the Sunbelt region with an anticipated lifespan of 5-7 years. 
AVAF3 offers both Class A and Class B share types. An investment in Class A shares earns a 9 percent coupon, generating strong projected cash flows while reducing risk. Upon disposition of a property in the fund portfolio, Class A shares offer limited distributions in exchange for the higher coupon rate. Class B shares earn a 7 percent coupon; however, Class B shareholders have greater overall return potential through their participation in the disposition of fund properties.  
Invest in AVAF3 here.
If you would like to learn more about investing in multifamily assets, visit https://info.ashcroftcapital.com/fund, or schedule a call with our Investor Relations Team at investorrelations@ashcroftcapital.com.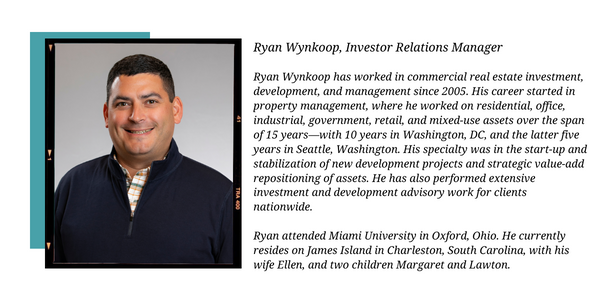 Sources:
1. Raleigh & Durham, North Carolina, U.S News Best Places. usnews.com™. (n.d.). Retrieved December 2, 2022, from https://realestate.usnews.com/places/north-carolina/raleigh-durham 
2. Forget Austin and Miami: 3 up-and-coming tech hubs with more affordable home prices are luring droves of new residents from nearby areas. businessinsider.com™. (n.d.). Retrieved December 6, 2022, from https://realestate.usnews.com/places/north-carolina/raleigh-durham
3. North Carolina has 2 of the 50 cities with the most green space per capita. stacker.com™. (n.d.). Retrieved December 6, 2022, from https://stacker.com/north-carolina/north-carolina-has-2-50-cities-most-green-space-capita  
4. Data shows NC population boom the nation's third-biggest jump over year span. wral.com™. (n.d.). Retrieved December 6, 2022, from https://www.wral.com/data-shows-nc-population-boom-the-nation-s-third-biggest-jump-over-year-span/20369530
5. Raleigh, NC Will be Among the Fastest Growing Cities by 2060. thecentersquare.com™. (n.d.). Retrieved December 5, 2022, from https://www.thecentersquare.com/north_carolina/raleigh-nc-will-be-among-the-fastest-growing-cities-by-2060/article_3eaa64b7-8c9f-58b3-a4d3-4f4ec3d7fcc2.html
6. The Best Job Markets Aren't in the Biggest Cities. wsj.com™. (n.d.). Retrieved December 2, 2022, from https://www.wsj.com/articles/best-cities-job-market-2022-11650639572
7. Raleigh's job market ranked as one of the hottest in the country. abc11.com™. (n.d.). Retrieved December 1, 2022, from https://abc11.com/raleigh-job-market-hottest-markets-fidelity/11804879
8. Did You Know? Most UNC System Grads Stay in North Carolina. jamesgmartin.center™. (n.d.). Retrieved December 5, 2022, from https://www.jamesgmartin.center/2019/09/did-you-know-most-unc-system-grads-stay-in-north-carolina
9. Raleigh Rent Report: December 2022. apartmentlist.com™. (n.d.). Retrieved December 5, 2022, from https://www.apartmentlist.com/rent-report/nc/raleigh
Disclaimer:
The testimonials, statements, and opinions presented herein (collectively referred to as "Testimonials") do not necessarily reflect the opinions of Ashcroft Capital LLC and/or its affiliates. Any ideas and strategies construed from Testimonials should never be relied on and/or used without first assessing your own personal and financial situation, or without consulting a financial professional.
Testimonials are applicable to the individual(s) depicted. Results will vary and may not be representative of the experience of others. Unique experiences and past performance do not guarantee future results. All Testimonials are voluntarily provided. No person or entity was paid for his/her/its/their Testimonials. No free products, services, or any benefits were provided in exchange for said Testimonials.
Ashcroft Capital LLC and/or its affiliates makes no representations as to the accuracy, completeness, suitability, or validity, of any information in the Testimonials. Ashcroft is not liable for any errors, omissions, or any losses, injuries, or damages arising from its display or use of Testimonials.
Past performance is no guarantee of future results and should not be relied upon as an indicator of the Partnership's future performance or success. An investment in the Partnership is highly speculative and entails a high degree of risk, including the risk of loss of a Limited Partner's entire investment. There can be no assurance that the Partnership will achieve its investment objectives or that the Limited Partners will receive a return of their capital.