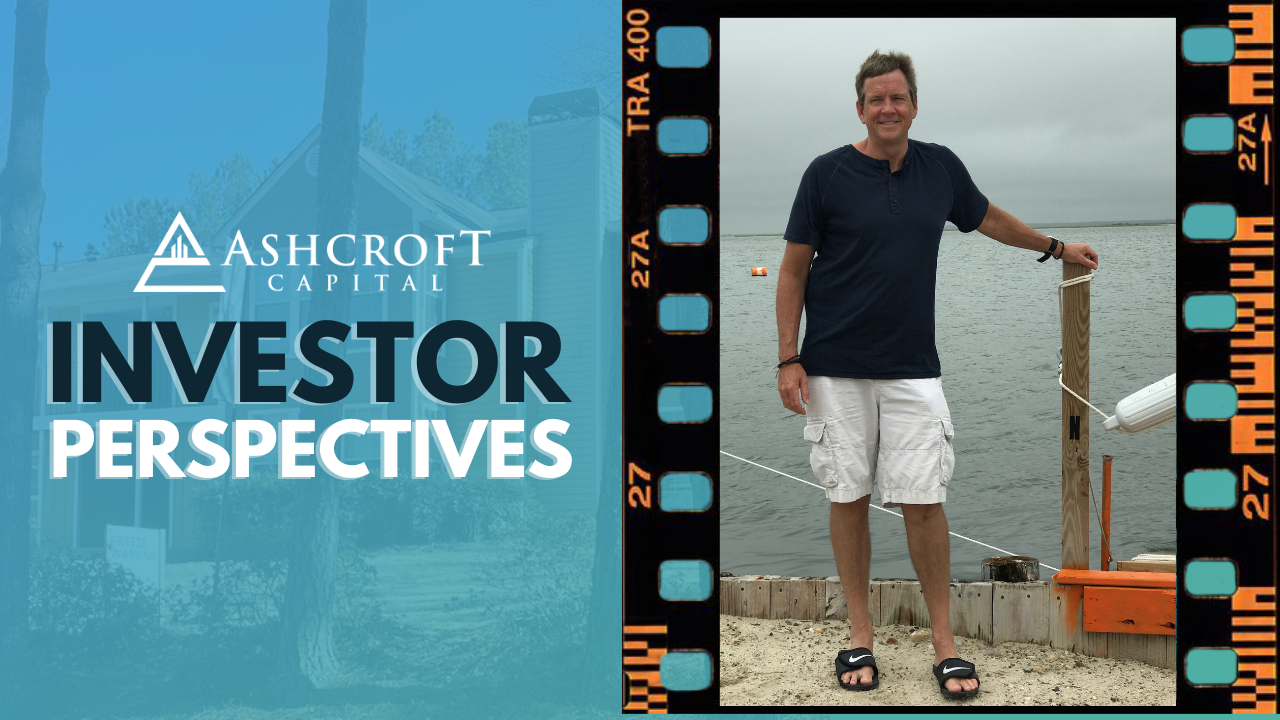 "I'd recommend Ashcroft Capital for many reasons, the first being the ease of the investing model created by the Ashcroft team. Joe Fairless made this clear during my initial dialogue with him prior to my first investment two years ago. The second is that Ashcroft employs a very highly effective customer service communication model. Being a former executive, I personally understand the critical importance of direct, impactful and meaningful communications to your customer base. Ashcroft Capital excels at this. I get monthly updates of each of my investments that articulate the status of each investment. The third is that they are a strategic growth company. They are not content with the status quo. It is apparent that they have a 5 year strategic plan and are singularly focused in reaching these goals. I also think their investment strategy to move into the South Western (Texas) and Florida markets when they did was brilliant. There is a great bi-coastal migration, considering our experience in California and the North East, with their high taxes and other negative factors. This will only increase the demand in these two markets for years to come.
I am a highly satisfied customer that continues to promote the syndication real estate model created by the Ashcroft team to both my professional and personal network. My satisfaction is directly correlated to my number of investments, with my fifth and latest investment being the Ashcroft Value-Add Fund II that is now open to investors.
My first real estate investments required a significant amount of my personal time due to my direct involvement in self-managing some of the assets in my portfolio. As I became more advanced in age, I started to rethink this strategy, and decided that syndication investments were a better fit for me and for my overall well being. Having found Ashcroft Capital a couple of years ago my research strongly indicated that Ashcroft Capital would be in direct alignment to my own personal goals, and I am extremely satisfied with this decision.
I love the flexibility of Ashcroft – I love that I can pick and choose what I want to invest in at any time in my financial availability cycle. Ashcroft is continuously moving forward with new investment opportunities so if I go on the sidelines for any amount of time, I know another great opportunity is going to avail itself to me at some point.
During my due diligence in reviewing Ashcroft Capital, I was concerned about its  being a newer company that had not experienced  a down market previously. Well, that concern was addressed in a monumental way with the Covid pandemic! The Ashcroft team did a remarkable job, not only communicating to the entire customer base at the onset of the pandemic but their monthly reports clearly delineated how each investment was faring in regards to occupancy and financial health. It put a lot of us at ease that this was being managed properly.
Two more things. I am highly impressed with Joe Fairless' ability to respond to his customer base both effectively and efficiently. I have asked him a few questions over the last two years and his response time is remarkable. The other thing I would add, from an improvement perspective, is not to take your eye off the technology core needed to run your operations. As a former technology executive, I experienced how critical this is to a customer base first-hand. The previous portal had some obvious design flaws and I communicated this to the team at that time. They were also a bit slow to communicate this to their customers, which created doubt about the operation of the portal. I know the portal was upgraded, however please make certain that there is technology accountability internally. Technology can be your greatest friend or your worst enemy;  how you manage  it determines your fate."
–Lawrence Campbell
Disclaimer:
The testimonials, statements, and opinions presented herein (collectively referred to as "Testimonials") do not necessarily reflect the opinions of Ashcroft Capital LLC and/or its affiliates. Any ideas and strategies construed from Testimonials should never be relied on and/or used without first assessing your own personal and financial situation, or without consulting a financial professional.
Testimonials are applicable to the individual(s) depicted. Results will vary and may not be representative of the experience of others. Unique experiences and past performance do not guarantee future results. All Testimonials are voluntarily provided. No person or entity was paid for his/her/its/their Testimonials. No free products, services, or any benefits were provided in exchange for said Testimonials.
Ashcroft Capital LLC and/or its affiliates makes no representations as to the accuracy, completeness, suitability, or validity, of any information in the Testimonials. Ashcroft is not liable for any errors, omissions, or any losses, injuries, or damages arising from its display or use of Testimonials.
Past performance is no guarantee of future results and should not be relied upon as an indicator of the Partnership's future performance or success. An investment in the Partnership is highly speculative and entails a high degree of risk, including the risk of loss of a Limited Partner's entire investment. There can be no assurance that the Partnership will achieve its investment objectives or that the Limited Partners will receive a return of their capital.