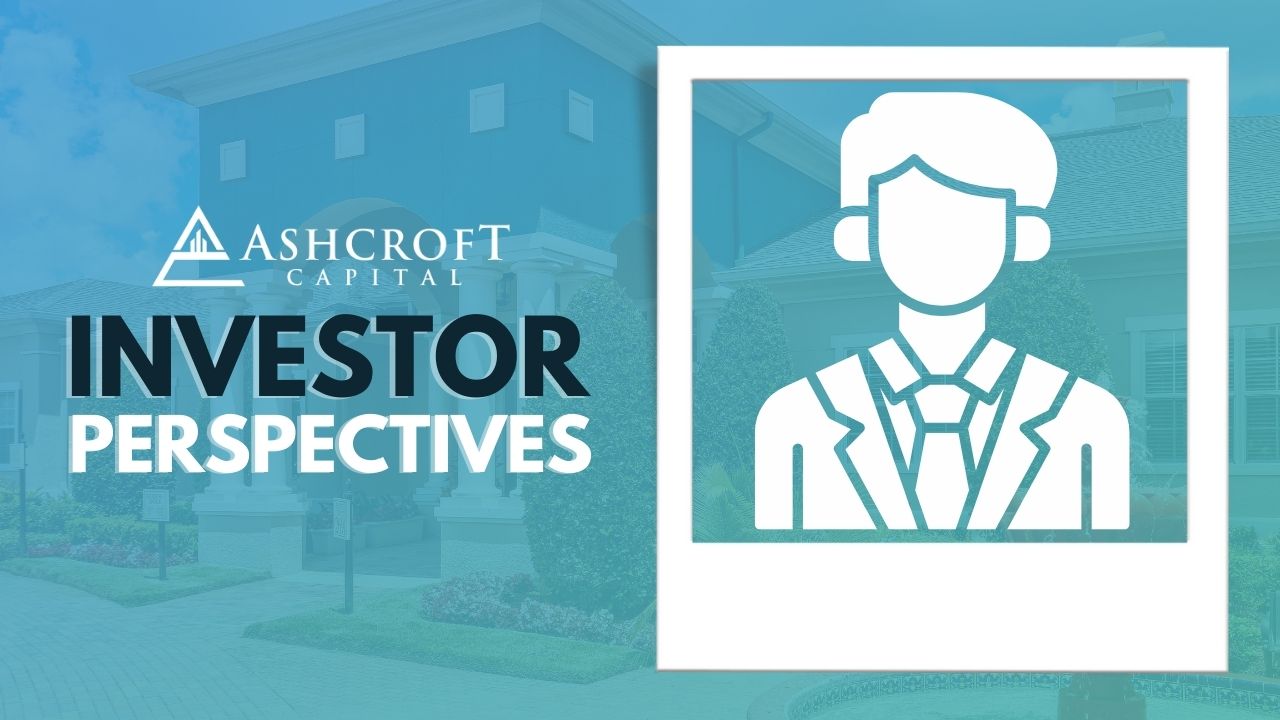 "The track record on deal execution has been superb. Ashcroft's communication regarding updates has been outstanding. The investor support staff are so responsive and professional; it's been very refreshing.
My overall feeling about Ashcroft is extremely positive. Any issues are resolved and every question is answered. The numbers are met and the distributions are on time. In our 2 ½ years as Ashcroft investors, we are delighted.
The transparency and communication is what impressed us most about Ashcroft. Two months into our first deal, we knew we were lucky to select the correct partner. Twelve or so properties later, the fit has been solidified even more. The fit is the trust that we have in Ashcroft's execution of the business plan.
Ashcroft Capital executes the plan with no excuses.
Ashcroft Capital has checked all the boxes. They continue to grow an outstanding staff. The investor support staff has been a pleasure to deal with. Chat, Evan and the rest of the team should be very proud of their professionalism and problem solving. The leadership team has not only found superb deals, their most important attribute is the staff that they have assembled. The blueprint they have developed is apparent and vividly recognizable. As long as they want our partnership, we will continue to be investors. Kudos."
-Kenneth Cox
Disclaimer:
The testimonials, statements, and opinions presented herein (collectively referred to as "Testimonials") do not necessarily reflect the opinions of Ashcroft Capital LLC and/or its affiliates. Any ideas and strategies construed from Testimonials should never be relied on and/or used without first assessing your own personal and financial situation, or without consulting a financial professional.
Testimonials are applicable to the individual(s) depicted. Results will vary and may not be representative of the experience of others. Unique experiences and past performance do not guarantee future results. All Testimonials are voluntarily provided. No person or entity was paid for his/her/its/their Testimonials. No free products, services, or any benefits were provided in exchange for said Testimonials.
Ashcroft Capital LLC and/or its affiliates makes no representations as to the accuracy, completeness, suitability, or validity, of any information in the Testimonials. Ashcroft is not liable for any errors, omissions, or any losses, injuries, or damages arising from its display or use of Testimonials.
Past performance is no guarantee of future results and should not be relied upon as an indicator of the Partnership's future performance or success. An investment in the Partnership is highly speculative and entails a high degree of risk, including the risk of loss of a Limited Partner's entire investment. There can be no assurance that the Partnership will achieve its investment objectives or that the Limited Partners will receive a return of their capital.