By: Danielle Jackson, Investor Relations, Senior Manager
The U.S. has a housing shortage of 3.8 million homes per recent data from Freddie Mac. The shortage of supply has caused home values to hold steady, or in some cases increase, even in the midst of a rising interest rate environment.  This combination makes homeownership out of reach for many Americans. These continued elevated housing prices have impacted the demand, and in many cases, the need to rent, suggesting it may be a good time to consider investing in the multifamily housing market.
If you invest or are looking to invest in multifamily real estate, you can leverage opportunities in this market in many ways. As you consider investing, it's essential to understand the options available. Are you looking to be an independent investor and actively manage properties, or are you looking to earn passive income with a real estate syndicator?  
"According to a recent survey measured by the Fannie Mae Home Purchase Sentiment Index (HPSI), consumer sentiment toward home purchasing continues to decline, with only 16 percent of respondents believing it is a suitable time to buy a home," says Danielle Jackson[1] Investor Relations, Senior Manager at Ashcroft Capital.  
Read on to gain more insight into the benefits of investing in multifamily real estate, the differences between managing an investment asset and participating in a real estate syndication, and the best practices for property managers, property management, and renovation management.  
Roles of Property Managers  
Experienced and knowledgeable property managers are essential to the successful execution of a multifamily investment property. A property manager[2] is responsible for the routine management and oversight of all units, including daily repairs, regular maintenance, and the property's safety and security.
Property managers can either be employees of the property owner or work for a third-party company that the property owner contracts. Along with managing the property's daily operations, a property manager plays an integral role in maintaining the property's value and running a profitable community by ensuring strong occupancy and collections.   
Types of Real Estate Managers  
A property manager isn't a one-size-fits-all role. Different types of real estate managers are responsible for different tasks. Below are some of the most common types of real estate managers:  
– Multifamily property managers: Oversee daily operations for apartment or condominium high-rise developments.  
– Commercial property managers: Oversee daily operations for retail, office space, and industrial properties.  
– Single-family home property managers: Oversee the management for single-family homes, working with the property's owners or landlords. This type of property manager often works with multiple landlords.  
– Short-term rental or vacation property manager: Oversee short-term rental or vacation properties, including handling reservations, maintaining furnishings and supplies, cleaning, and repairs.  
Property Manager Responsibilities  
A property manager's responsibilities can largely vary based on the property's business plan, needs, and the job responsibilities set by the property owner. Common duties of a property manager[3] include:  
– Managing the property's finances, such as collecting rent and resident deposits, tracking income and expenses, and collecting materials for taxes   
– Marketing the property  
– Resident communications  
– Serving as the face of the property  
– Vetting tenants, including running credit checks, background checks, and any additional requirements as set by the property owner, and processing evictions  
– Managing lease and rental agreements and ensuring lease compliance  
– Overseeing maintenance and housekeeping of the property's common areas, such as fitness facilities, the lobby, and outdoor spaces, weather-related maintenance, such as landscaping and snow removal, and overseeing third-party repair vendors, such as plumbers, electricians, or contractors 
RE Syndicator vs. Independent Investing and Property Management  
Multifamily investors that participate through a real estate syndicator, like Ashcroft, can benefit from the our established financial, construction, and maintenance processes. If you are considering independently investing and managing your asset, there are many factors to consider[4]:  
– Property underwriting and evaluating the property  
– Establishing relationships and knowing how to successfully source contractors  
– Managing rising repair costs and ongoing supply chain issues  
Management of the Budget  
Despite inflation and supply chain shortages, at Ashcroft Capital we pride ourselves on maintaining our value-add strategies.   
"In terms of cost and expenses with regard to inflation, we are doing our best to keep the cost of our construction projects steady. Our underwriting conservatively assumes these costs, which gives us room for these costs to grow over time, but still be within our budget. The same holds true for our expenses," says Travis Watts, Director of Investor Education[5]. "[We're] as proactive as possible to keep the costs and impacts as low as possible so that we can continue to deliver competitive returns for our investors."  
Managing NOI, Rental Rates, and Occupancy Rates  
As an investor, understanding a property's net operating income (NOI) growth is essential, as it determines the profitability of the property. Knowledgeable property management, vertical integration, and implementation of strategic technology lend to a property's NOI growth, competitive rental rates, effective collection practices, and high occupancy rates.  
Maintaining Quality Employees  
When investing in multifamily real estate, quality employees are essential for the property's success and, therefore, the investment. The wrong property management team can be detrimental to the profitability of the property. Signs that the wrong property management is in place include:  
– Minimal marketing initiatives  
– High level of vacancies  
– Issues collecting rent  
– Communication issues with residents  
– Poorly maintained facilities  
New Technology  
Incorporating new technology in property management operations can help maximize NOI, allowing property managers to focus more on invaluable face-to-face interaction. At Ashcroft, we've implemented new technology, including:  
– AI lead follow-up technology to automatically follow up with leads  
– Fraudulent application detection software  
– Purchase order program  
– Online reputation audit to showcase our properties in the best light online  
Managing Renovations   
When independently investing in real estate, the renovations will be your responsibility. So, the question becomes, how hands-on do you want to be with your investment? Completing the labor yourself is an intensive process requiring time, skill, and focus.  
When outsourcing construction on a multifamily property, there can be significant issues that impact your cash flow and time investment. These factors include[6]:  
– Supply chain disruptions  
– Increasing material costs  
– Lack of skilled labor  
Suppose you want to pursue investing in multifamily real estate through a real estate syndicator, like Ashcroft. In that case, it is essential to be sure the investment firm has a well-defined business plan and capital improvement strategy that improves curb appeal, enhances property value, and increases overall ROI. Factors to investigate include[7]:  
– Going into depth with too-good-to-be-true promises  
– Successful track record in executing the capital improvement strategy with extensive knowledge of the projected repair costs  
– Resident engagement strategy, because unhappy tenants can will ultimately impact the ROI  
Vertical Integration  
Vertical integration is one of the most important factors in delivering NOI growth and high occupancy rates. Ashcroft is a vertically integrated multifamily operator, which means we have an in-house team for each facet of our business plan. A vertically integrated team may include property management, construction teams, design teams, and supply depots. All these elements help with transparency, controlling costs, and expediting repairs and improvements.  
"One of the critical elements for maintaining and driving consistent NOI growth, high occupancy rates, and overall tenant satisfaction is being a vertically integrated multifamily operator," says Ryan Wynkoop, Investor Relations Manager[8] at Ashcroft Capital. "Ashcroft has an in-house robust, comprehensive property management and construction management team."  
In-house Property Management and Construction  
Ashcroft's in-house vertical integration strategy includes our own property management and construction teams. Our property management teams oversee the marketing, leasing, learning and development, special projects, and maintenance. We also have in-house interior design, renovation, and construction teams. As a result, we can control the quality, costs, and speed of our property initiatives.  
Our proven five-step property improvement strategy includes:  
– Upgrading the units  
– Improving the leasing center and amenities such as the fitness center, pool area, and other shared spaces  
– Repainting the property  
– Cleaning and updating the landscaping  
– Installing energy efficient appliances  
"[Our team] have been highly motivated to drive down costs on our portfolio and guarantee our projects run smoothly so that we don't experience any issues with shortages," says Watts. "Buying in bulk has helped us to take advantage of economies of scale, which allows us to reduce costs. And because we purchase such large quantities at once, this also keeps costs down and hedges against inflation. When we purchase our supplies, we buy directly from the manufacturers. The supplies are then stored in a warehouse that we control, and we organize the supplies into 'kits.' These kits are fitted with our value-add design in mind."  
Purchase Order Program   
Investors considering investing in multifamily real estate with Ashcroft benefit from our unique offerings, such as our purchase order program. This program helps to manage, automate and control property expenses, helping to prevent any unnecessary maintenance expenditures.  
"We've rolled out a purchase order program[9]. [The new] technology is great because our maintenance teams will have a catalog to order from. We'll know exactly what they're paying for every part because that's the only way they can buy them. All of our vendors that agree to be in this catalog agree to the pricing. It's a great way to control those expenses," says Wilhelm. "This program ensures that all maintenance expenses stay within the budget, reducing any unnecessary spending. All of these programs are intended to try to tighten that expense growth as much as they can, fighting the inflation that everyone is seeing."  
Ashcroft Practices and Results  
We have a strong reputation in the real estate investment industry, with more than 3,000 investors, of which 65% are repeat investors. This level of trust and loyalty reflects our performance and commitment to delivering value to our investors. We manage 37 communities across Texas, Florida, and Georgia, and our performance is demonstrated through our 32% Net Operating Income (NOI) growth, 25.7% Annual Cash on Cash Return, and 22.7% Limited Partner (LP) Internal Rate of Return.  
Ashcroft investors may benefit from the expertise, diversification, and value-add strategy that Ashcroft Capital provides, leading to stronger returns and a more resilient investment portfolio.   
If you are interested in reviewing our current offering, please visit https://info.ashcroftcapital.com/fund, or schedule a call with our Investor Relations Team at investorrelations@ashcroftcapital.com. We look forward to the opportunity to work with you and align our investment interests.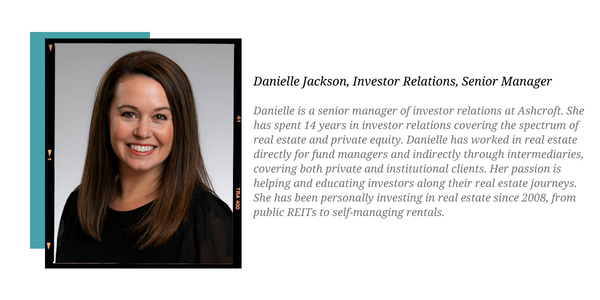 Sources:  
1 Jackson, Danielle. "Focusing on Amenities and Management to Increase Multifamily Value." Ashcroft Capital. March 7, 2023. https://ashcroftcapital.com/focusing-on-amenities-and-management-to-increase-multifamily-value/  
2 Brown, Jefreda. Courage, Ariel. "Property Management: Definition, Roles, Types, and Duties." Investopedia.com. April 12, 2023. https://www.investopedia.com/terms/p/property-management.asp  
3 Beck, Rae Hartley. "What does a property manager do?" Bankrate. October 20, 2022.https://www.bankrate.com/real-estate/property-manager/#how-to-hire  
4 Many U.S. Construction Contractors are Turning Down Work Because They Don't Have Enough Workers, U.S. Chamber of Commerce, 2021. The Top 10 Risk Factors In Flipping Houses (And What To Do About Them), Forbes, 2018   
5 Watts, Travis." How We Maintain Our Value-Add Strategy Despite Inflation And Supply Chain Shortages." Ashcroft Capital. December 22, 2022.  
https://ashcroftcapital.com/how-we-maintain-our-value-add-strategy-despite-inflation-and-supply-chain-shortages/  
6 Construction Project delays up to 100% due to Covid, nPlan 2022. 2022 Construction Industry Forecast, Wells Fargo, 2022. 2022 U.S. Construction Costs Trends, Many U.S. Construction Contractors are Turning Down Work Because They Don't Have Enough Workers, U.S. Chamber of Commerce, 2021.   
7 'A complete nightmare': Luxury Jersey City building beset by flooding, inoperable elevators, tenants say, New York Post, 2022. . Indiana Real Estate Developer and Property Manager Admits Ponzi Scheme to Defraud Investors of Millions of Dollars, Department of Justice, 2022. Wolf of Main Street, Bloomberg, 2022.   
8 Wynkoop, Ryan. "The Importance of Vertical Integration" Ashcroft Capital. March 21, 2023. https://ashcroftcapital.com/the-importance-of-vertical-integration/  
9 Polaski, Evan. "Conversations | Q4 2022 Review and Q1 2023 Outlook With Traci Wilhelm." Ashcroft Capital. March 17, 2023. https://ashcroftcapital.com/conversations-q4-2022-review-and-q1-2023-outlook-with-traci-wilhelm/