By: Evan Polaski, Investor Relations Managing Director
We are proud to announce that we have officially closed on Midtown 501. Birchstone Residential, our in-house property management company, has hit the ground running and is implementing our Value-Add business plan, beginning with rebranding the property.
Here are just a few of the highlights of our Midtown 501 property:
The school district (Chapel Hill Carrboro County School System) that serves the property has been ranked by Niche.com as the #1 school district in North Carolina.
The 2022 year-to-date rent growth at Midtown 501 is 12.4%, compared to a US national average of 4.7%.
The average household income within a one-mile radius of the property is greater than $127,000 per year.
Our team recently hosted a tour of this site. Watch the video below to learn more about the property and see investors' reactions.
With the closing of this asset, we are able to offer all investors who complete their investment before the end of the year a share in the 100% bonus depreciation, and your returns will begin on January 1. You must invest before the end of the year to take advantage of this opportunity. In 2023, the bonus depreciation rate falls to 80%. Don't miss out on your opportunity to participate in the first distribution payout.
If this isn't reason enough to act now, we introduced for AVAF3 our Ashcroft Investment Incentive. As a Class B investor with our new waterfall structure, you have the potential to receive a higher return on your investments. With monthly distributions based on your investment's start date, the sooner you invest, the sooner your money will begin working for you and generating distributions.
If you are ready to take advantage of the benefits of this fund, click here. If you have further questions, please do not hesitate to contact investor relations at investorrelations@ashcroftcapital.com or myself at evan@ashcroftcapital.com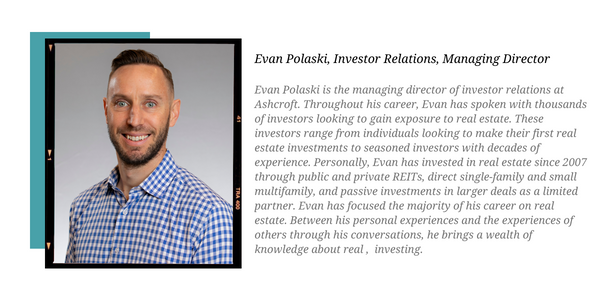 Disclaimer:
The testimonials, statements, and opinions presented herein (collectively referred to as "Testimonials") do not necessarily reflect the opinions of Ashcroft Capital LLC and/or its affiliates. Any ideas and strategies construed from Testimonials should never be relied on and/or used without first assessing your own personal and financial situation, or without consulting a financial professional.
Testimonials are applicable to the individual(s) depicted. Results will vary and may not be representative of the experience of others. Unique experiences and past performance do not guarantee future results. All Testimonials are voluntarily provided. No person or entity was paid for his/her/its/their Testimonials. No free products, services, or any benefits were provided in exchange for said Testimonials.
Ashcroft Capital LLC and/or its affiliates makes no representations as to the accuracy, completeness, suitability, or validity, of any information in the Testimonials. Ashcroft is not liable for any errors, omissions, or any losses, injuries, or damages arising from its display or use of Testimonials.
Past performance is no guarantee of future results and should not be relied upon as an indicator of the Partnership's future performance or success. An investment in the Partnership is highly speculative and entails a high degree of risk, including the risk of loss of a Limited Partner's entire investment. There can be no assurance that the Partnership will achieve its investment objectives or that the Limited Partners will receive a return of their capital.