By: Travis Watts, Director of Investor Education
We are excited to add Midtown 501 to our Ashcroft Value-Add Fund 3 ("AVAF3") portfolio.
For all of Ashcroft's acquisitions, we perform extensive due diligence on the asset. In the video below, Travis Watts shares an update on our 144-step due diligence process and the transition of ownership.
Here are just a few of the highlights we found as part of our due diligence:
The average household income of existing residents is $90,000.
64 percent of the residents work in health care and education or as business professionals.
Competitors in the marketplace also have their own value-add plans, helping put upward pressure on the market for higher rent.
Watch the full video to learn more about our first property in the fund and why you should invest now.
If you are looking to join the AVAF3, the time is now. The 100 percent bonus depreciation ends this year. Additionally, with Ashcroft's Investment Incentive, the more you invest, the more potential upside you can receive.
Ready to start investing in the AVAF3? Simply click here.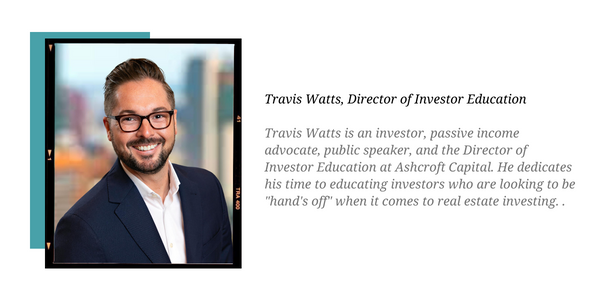 Disclaimer:
The testimonials, statements, and opinions presented herein (collectively referred to as "Testimonials") do not necessarily reflect the opinions of Ashcroft Capital LLC and/or its affiliates. Any ideas and strategies construed from Testimonials should never be relied on and/or used without first assessing your own personal and financial situation, or without consulting a financial professional.
Testimonials are applicable to the individual(s) depicted. Results will vary and may not be representative of the experience of others. Unique experiences and past performance do not guarantee future results. All Testimonials are voluntarily provided. No person or entity was paid for his/her/its/their Testimonials. No free products, services, or any benefits were provided in exchange for said Testimonials.
Ashcroft Capital LLC and/or its affiliates makes no representations as to the accuracy, completeness, suitability, or validity, of any information in the Testimonials. Ashcroft is not liable for any errors, omissions, or any losses, injuries, or damages arising from its display or use of Testimonials.
Past performance is no guarantee of future results and should not be relied upon as an indicator of the Partnership's future performance or success. An investment in the Partnership is highly speculative and entails a high degree of risk, including the risk of loss of a Limited Partner's entire investment. There can be no assurance that the Partnership will achieve its investment objectives or that the Limited Partners will receive a return of their capital.