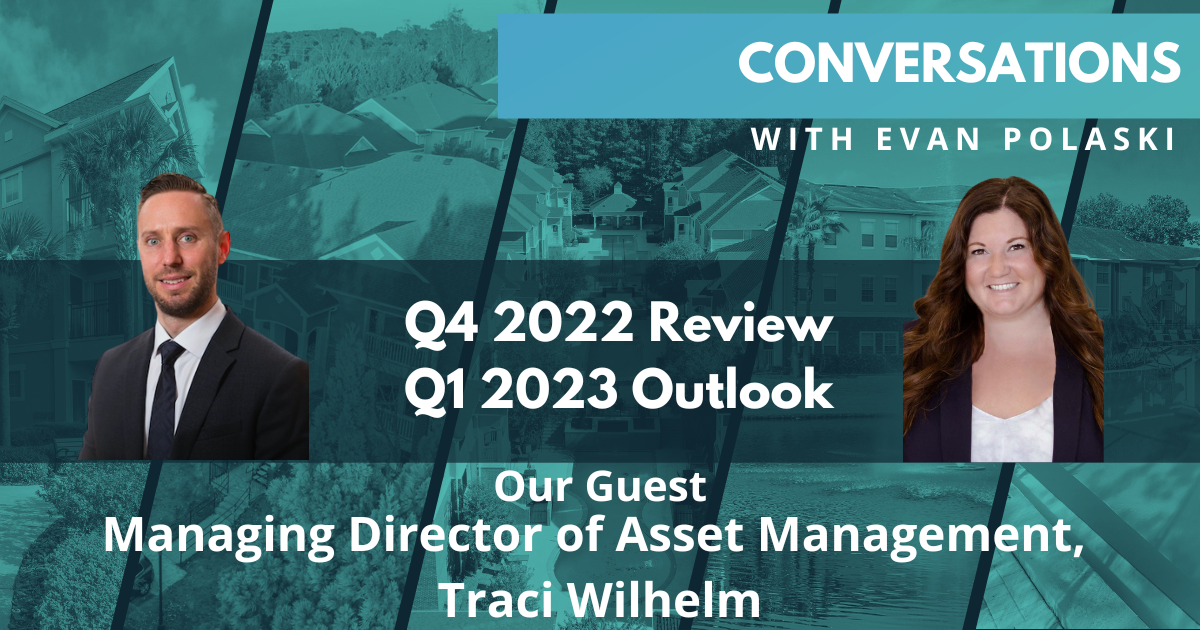 By: Evan Polaski, Investor Relations Managing Director
Evan Polaski: 
Hi. I'm Evan Polaski, managing director of investor relations at Ashcroft Capital, and today, back with me again, is Traci Wilhelm, Ashcroft's director of asset management. Traci, how are you today? 
Traci Wilhelm: 
I'm great, Evan. How are you doing? 
Evan Polaski: 
I'm doing well. Thank you for spending your time and sharing some insights here as we're looking back at 2022, specifically into Q4 of 2022 and starting to look forward into 2023—how we're going to get through 2023, given all the financial-world headwinds that we're currently seeing. But let's just jump right into it. Why don't you provide a little background on how Ashcroft and the portfolio as a whole really performed back in 2022? 
Traci Wilhelm: 
As a whole, our portfolio very much outperformed all of our competitors in our market in general. We experienced a 17.9% rent growth, year over year, from December 2021 and from December 2022, so really exceptional rent growth. That's really a result of the market strength through the first three quarters of the year. Then, we did see some declines in the fourth quarter, as everyone in the industry did, but we were still able to achieve positive rent growth. A lot of the market indicators have said that they were starting to see some negative rent growth, so we were able to achieve positive rent growth in the fourth quarter to really finish off the year from a strong position. 
Evan Polaski: 
So rent growth was great. How about Net Operating Income (NOI) because, clearly, inflation affects expenses as well. 
Traci Wilhelm: 
That's right, but we were still able to achieve really excellent results on the NOI growth. We achieved 13.8% improvement from December 2021 and from December 2022. The revenue obviously was a big driver of that. It was slightly offset by some increases, particularly in utilities and payroll. As we all know, their payroll has increased pretty significantly over the last year and, actually, the National Multifamily Housing Council (NMHC) has produced some statistics that have shown that multifamily has actually increased higher than the typical national average for job increases because there's such high competition with all of the new supply and the demand that's in the marketplace. 
Evan Polaski: 
What about year-end occupancy? How are we performing in occupancy? 
Traci Wilhelm: 
We ended the year at 94% occupied, which is great. This is down about 140 basis points from the end of the year in 2021. That's really to be expected and in line with what we're seeing from all of the market prognostications. All of the reporting has said that occupancy decreased, and there was negative absorption in the fourth quarter, so we experienced that as well. However, 94% is a very healthy spot, and what we're seeing is that at the beginning of the quarter, we started out actually at about 92.8%. Since then we've seen it grow to 94% at the end of the year, and it has stabilized since. We had a short-term dip at the end of Q3, beginning of Q4. What we've seen is that really stabilized now back in that 94% range, which is exactly where we want to be. 
Evan Polaski: 
What were the highlights of last year? What would you and your team say really performed the strongest? 
Traci Wilhelm: 
A couple of different ways. I'd first say, from a geography standpoint, we saw that Georgia outperformed the market, including the other markets that we are in. Now, that's softened significantly. They're expecting about 40,000 units of new supply over the next couple of years, so it's a huge market; keep that in mind. It's not the same as Austin, expecting 30-something thousand units in a much smaller Metropolitan Statistical Area (MSA) and is delivering over a few years, but we were able to see tremendous growth there this year. What's interesting is that what we saw were wild swings in Georgia. The first quarter was good, second quarter was exceptional, and then third quarter started coming down but was still great. Then, the fourth quarter was pretty slow in terms of growth but still growing, so that's important.  
Dallas was kind of steady as she goes. We didn't increase significantly, but we didn't drop down as much in the fourth quarter. While Dallas is also going to see some supply, it's not, from a percentage standpoint, as significant as what we're seeing in Georgia. I think that it's interesting to watch because we've had quarters of amazing rent growth in some of the markets. But then, you've got Dallas, which is just behind Georgia in terms of the annual rent growth because it's just been steady. We like to see that stability, and we know that it bodes well for the future, and we're really positive on 2023. 
It's not going to be to the tremendous growth that we've seen. I think these markets are softening a bit, but we are still expecting to see positive rent growth. It'll just be kind of back to normal. We have to remember that the 17, 18, and 20% increases that we've seen over the last two years are unprecedented, and we are going to be back in that 3% to 4% range, which is great. We just need to reset our expectations, again, back to normal after the last couple of years. 
Evan Polaski: 
Where are we looking for opportunities to continue to improve? 
Traci Wilhelm: 
There are a few things that have impacted NOI that aren't necessarily what we are thinking of when we're thinking of capital markets, the debt markets, and things like that. But insurance increases are a big one, a big topic in our industry right now. Many years of double-digit increases at most of these large REITS that we're seeing, and we're seeing the same.  I think everyone's seeing the same, so it's beyond debt service. It's the continuation of inflation—making sure that we're really managing these expenses to the best of our ability to overcome some of these uncontrollable things like insurance and debt. One thing that we saw in the fourth quarter that we spoke with all our lenders about, and they're seeing this across their portfolios, is an increase in delinquency. This is for several reasons. First of all, a lot of the rental assistance programs have expired. 
Second, there are people who signed renewals for units that they really couldn't afford, knowing that they couldn't. All of the rents around have gone as well, so they knew they wouldn't be able to qualify for a new apartment, so they stayed with the hopes that they could continue to pay rent. This has been a big challenge. We've seen some of these things come in. The other thing is that evictions have started to be processed more quickly in most of our markets, with the exception of Georgia. We're seeing all of those things combined. We're also starting to see an increase in fraudulent applications as well, so we launched a great initiative, a new technology, this year called SNAPT. It was in the fourth quarter of last year that we launched this, and we tested it out on a few properties. 
What they say is that 12% of applications contain fraudulent information, and that's for fraudulent bank statements or pay stubs. This product can detect digital alterations allowing things that aren't obvious to our on-site teams to be caught by this software. I mean, you can literally go online right now and buy personal information that will get you qualified for a unit for like $70, so it's really affordable to commit fraud these days. We've launched SNAPT to detect that. On the first property that we launched a test at, we tested it for two months and they found over eight fraudulent applications. This was in Georgia, and it takes you anywhere from four to six months to get someone out of the property. If you really look at that, that's almost $140,000 that this program has saved us already at that one property alone.
We know that it's doing its job because we are finding fraudulent applications at almost every single property. We're really excited about this because what we're hoping to do is catch it on the front end so that we don't have the exacerbation of these delinquency issues. We're also considering rescreening people upon renewal. We're looking into that to see what it would take, what it would cost us on the expense side, and then maybe what the metrics are. If it's a 1% increase (on rent) , maybe we don't need to rescreen someone, but if it's a 15% increase maybe we do. We're working through those parameters now and the logistics of it to see if that's something that we'll pursue, but, effectively, we're trying to get it on the front end before it hits our books. 
Evan Polaski: 
Beyond SNAPT, were there any major, or not major, primary initiatives on the asset management team throughout Q4 that we're really trying to improve the process on? 
Traci Wilhelm: 
There's quite a few. On the revenue side, we've mentioned this before when we've talked, but we continue to roll out our portfolio on the revenue management program, which is AIRM. It's a RealPage product that we launched for half of our portfolio in 2022. We've got another ten assets being rolled out in the first week of March, so we're in the staging stage right now, and we'll be doing the training over the next couple of weeks to launch in the first week of March. That will only leave about six properties for us to onboard, probably closer to April. We've done it in these tranches because w hen you roll it on, you might find some glitches or you might find some pricing that you need to adjust, and it's better for us to be able to focus on a smaller group to make sure we don't have any glaring mistakes or miss out on some revenue potential. 
On the expense side or on the leasing side, we launched a really great technology called Knock. This is a leasing tool that really helps our on-site teams follow up  and do lead management. It gives us, on the asset management side, a lot of transparency into each property's performance, so if a property is struggling, and we're not understanding why, we can dig in. We can listen to phone calls that they're making to prospects. We can read emails that they're sending. In the last couple of years, it's been easy to lease, up until maybe six months ago, because the demand was so very strong. Now anybody who's joined in the last two years doesn't fully understand how intense this process can be, and a lot of the people who had been in the industry before that had forgotten how intense it can be. 
It's a sales job; you have to follow up, and follow up, and follow up. So it helps them do the follow-ups by queuing up the follow-ups and alerts them when they haven't been done, but it also gives us the transparency to make sure that that's happening and to make sure that those follow-ups are quality. Now we're coming to the stage where you can't just say, " Thanks for your email; reach out to us if you have questions." It needs to say, "I see you're interested in a two bedroom, and here's how expensive they are, and here's our availability; please come into the office." We're able to not just track that they're following up on the leads, which isthe only thing we were able to track before, but we're able to track the quality of that follow-up to make sure that we've got our best foot forward in getting all potential residents in the door that we can. 
Evan Polaski: 
Where are you seeing the opportunities in 2023 to continue to improve those operations? 
Traci Wilhelm: 
Everything we're hearing just on a market wide basis is that everything is expected to be a little slow, stabilized but slow, for the next three to five months. Then everyone is expecting it to really pick back up in the second half of 2023. This is not just in terms of the financial markets, if you will, but it's also in terms of demand because a lot of what we're seeing is that people are staying put because of uncertainty in their own lives. Really the focus this year for us is expense management and continuing the progress that we've been making on that front as well as retention of residents. We've really put an impact into , and we included in our budgets a lot of marketing money to host more resident events to create connections with those residents because it's really important that we have relationships in order to create that retention. 
Then, just working toward a higher retention goal so that we're not spending money on turnover and if we get into a situation that we're not really expecting. If we get into a situation where there is negative rent growth, your renewals, if we can keep them flat, that's a positive at the end of the day, so we're really working those renewals. Customer experience is a huge piece of that. We're really focused on increasing and creating a better customer experience this year and then, again, on really managing those expenses to overcome some of these uncontrollable increases that we've seen. We're doing things like water and electricity audits across the portfolio to make sure that we have all of the appropriate systems in place and that we're achieving any savings that we can or if there are any small capital projects, we can do to create a savings in some of those areas. 
Those are all the projects that we're working on to try to mitigate those expenses. We're also working on rolling out, and this has been happening over the last few months, a lot of national vendors that we're working to get preferred pricing on. Like we do on our renovations, there's no reason that we can't use some of those same companies for our maintenance supplies and maintenance contracts, so we're working on all of those things, and that's really just to improve and mitigate that inflationary number and try to keep that as low as possible. We know there's not going to be a lot we can do in terms of payroll on an individual level, but we're looking at creative solutions around staffing to see if there are any savings that we can achieve that way. Then, I think that there's other things that we can work on to try to mitigate some of the challenges we have. 
For example, we've sent out these sprayers to all the properties. They allow you to touch up paint rather than having to paint wall-to-wall or a whole room. We were having a lot of trouble with matching colors because it was two years old, and then you had to repaint the whole unit because it looked bad. With these sprayers, we're able to retouch, and then it becomes a $50 paint charge rather than an $800 paint charge. We're rolling through more initiatives like that where you can spend $300 to save a lot more than that. Those things are all under underway or have already been completed, and we continue to really focus on that expense management for 2023. 
Evan Polaski: 
Greatly appreciate all your time and your insights for this quarter and look forward to connecting at the end of Q1 so that we can start to see how the year is panning out and how our crystal balls were reading. 
Traci Wilhelm: 
Absolutely. Looking forward to it. 
Evan Polaski: 
Thank you so much, Traci. 
Traci Wilhelm: 
All right. Thanks. 
If you would like to learn more about investing in multifamily assets, visit https://info.ashcroftcapital.com/fund, or schedule a call with our Investor Relations Team at investorrelations@ashcroftcapital.com.