October 5, 2023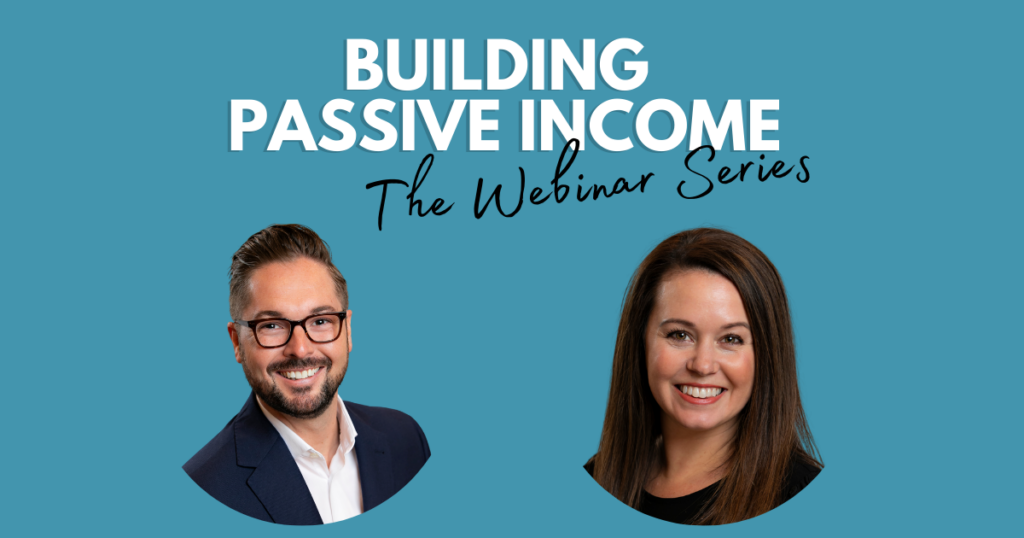 A Webinar Series for Investors Like You
Ashcroft Capital kicked off our Building Passive Income Webinar Series in June. Every two weeks, you can join one of our thought leaders for an informative and interactive conversation surrounding real estate investing topics.  
If you are looking to create more passive income, you might want to consider the many benefits that real estate has to offer. Passive income investing is a way to put more money in your pocket while freeing up your time.
This strategy allows you to expand your lifestyle without the hassle of becoming a landlord. Investing in multifamily real estate is ideal for those who prefer a more conservative approach to growing and preserving wealth.
The great news is you can begin today even if you do not have past experience.  
Multifamily Real Estate Can Offer: 
A hedge against inflation:

with higher inflation, property values and rents go up, yielding higher returns

 

Portfolio diversification: historically, real estate has a low correlation to the stock market

 

Consistent cash flow:

returns you can rely on in the form of rental income

 

Ability to appreciate: tends to appreciate even in times of market volatility

 
The next webinar in this series will be announced soon.
Catch Up on Previous Webinars: 
Hosted by Director of Investor Education Travis Watts
Negative Leverage – Can You Still Make Money in Commercial Real Estate: Can you make money in real estate if interest rates are higher than cap rates? Learn how profits can be made amid negative leverage.
Everything You Need to Know About Investing in Real Estate Today: Learn the ins and outs of real estate investing and how you can make your investing journey hassle- free. 
The Velocity of Capital—How Travis Compounds His Returns: Travis started by investing $40,000. After 15 years, he achieved a net profit of $1.8 million. Learn the secret to his real estate investment success with sustainable real estate wealth-building strategies.
Playing Monopoly in Real Life – The Game of Commercial Real Estate: In this fun and engaging presentation, you will learn the parallels between the game of Monopoly and real-life real estate investing, how to convert active income into passive income and how to create financial independence.
How to Eliminate Pain Points with Passive Income: Learn how passive income is more than just a trending phrase. It's your key to achieving the life balance you've dreamed of.
Hosted by Investor Relations Senior Manager Danielle Jackson
Start Earning Passive Income – Unleash the Power of Multifamily Apartment Investing: Learn how to be an investor, rather than a landlord. Danielle shares her expertise on passive income investing using multifamily private placements.
Why Big Money Chases Multifamily Apartments: Learn key factors that continue to draw institutional and investors like you to multifamily real estate. 
Unleash Wealth Creation Potential with Multifamily Apartment Investing: Learn how you can leverage this powerful investment tool and start earning cash flow. 
Why 9 Out of 10 Millionaires Invest in Real Estate: Nearly 90 percent of ultra-high net worth individuals build, and maintain, their wealth for generations by investing in real estate. Learn 7 key reasons to invest in real estate for both cash flow and wealth creation.
If you would like to learn more about investing in multifamily properties, please visit https://info.ashcroftcapital.com/fund or schedule a call with one of our investor relations team members today at investorrelations@ashcroftcapital.com.