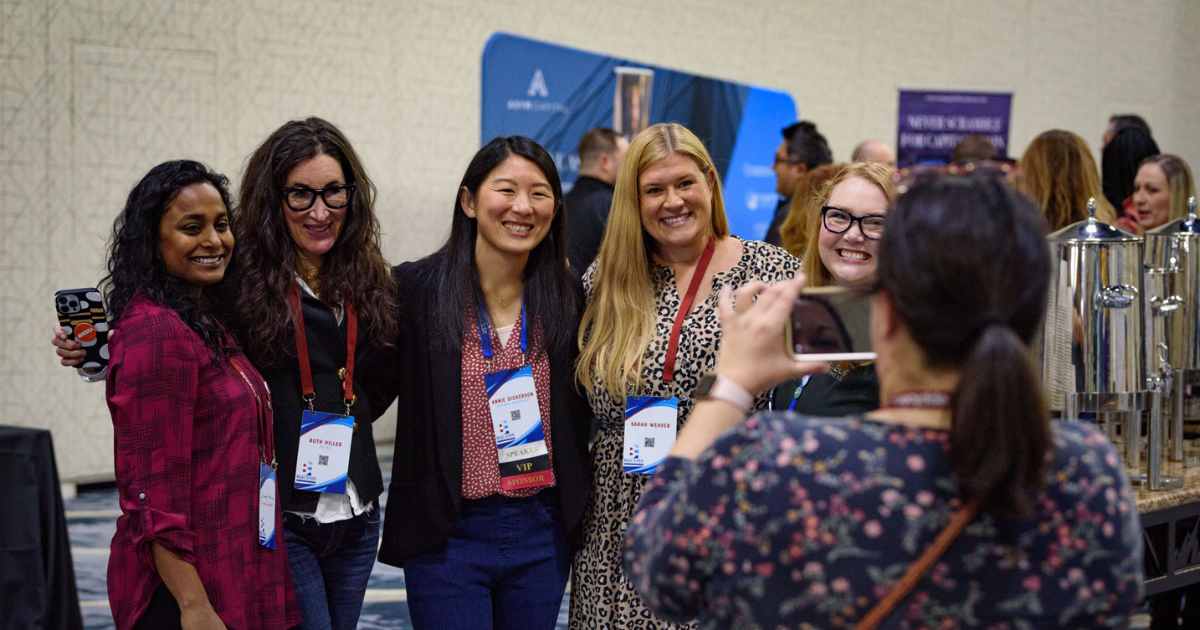 By: Evan Polaski, Investor Relations Managing Director
Conferences are a great way to meet new people, while boosting your personal and business investment profiles.  As we are becoming fully entrenched in an unavoidable recession, these connections can help bring your personal and business objectives out unscathed.  Whether the outcome is seeking new investment options, a partner to launch a new business, investors to help fuel that business, or simply a desire to connect with people and add value to their goals, it all starts with networking.  
Conferences, like the Best Ever Conference, are known to foster advancement on attendees' goals, but only through effective networking.  Here are five steps to get the most out of any networking event: 
1. Know Your Goal
Before you ever set foot in the conference venue, you should know the answer to:  
"If I only get ________ out of this conference, it will have been a success."   
This will vary for each attendee.  Some will be arriving to learn more about investing and to meet different operators in order to broaden their investment options. Others may be looking for a business partner to launch a new endeavor. Some may be pursuing an investor to expand their existing business.  
Regardless, be prepared to meet said investors, podcasters, or others who are accomplishing the goals you wish to accomplish.  Enter the conference with a growth-mindset and a willingness to find value from each interaction.  These interactions can form a lasting impression and could be an incredible boost to your own ventures. 
Be cognizant of the importance of building an infrastructure of solutions, not just meeting investors.  Being in a referral position that also helps others meet their needs can generate a positive reputation in investment circles.     
Lastly, as Benjamin Franklin said, "If you fail to plan, you plan to fail."  
2. Do Your Research  
Ideally, a conference will offer a list of attendees ahead of time. Use this list to begin connecting to a "target person" or building a "target list" (i.e. LinkedIn searches, google searches).  Through these searches, scaffold background information to find shared interests.  This serves two functions: 1. you may find someone else who has a skill set or association that the "target person" needs; therefore, securing a way to approach them through mutual benefit and/or 2. you may find a commonality between interests to encourage authentic conversation. 
Nonetheless, if your aim is to learn more about investment opportunities, a conference like the Best Ever Conference is ripe with benefits. Even without an attendee list, you will be able to view the speakers, many of whom run investment businesses themselves.   
And, if the conference attendee list is not available, utilize social media and online forums to tap into your existing network.  Make inquiries about who will be attending the conference. On online forums, like BiggerPockets.com, there tends to be entire discussions about conferences and who is attending.  Creating and nurturing connections with others is crucial; therefore, completing the research into who will be attending these conferences will create the best possible networking results for you. 
3. Be Ready to Add Value to Those You Meet 
Your goal is outlined, you have a target list of people you would like to meet, now it is time to complete a self-assessment of your current strengths and where you can add value to each of these connections.   
If your goal is to find and meet with investment managers, your value is the possibility of a future investment. If you are focused on staying active, you may have an outgoing personality and a network of potential investors, but are not comfortable with the underwriting and day-to-day operations of the business. 
The primary point is to think of what you can offer, not what you need.  Humans have two ears and only one mouth, so ask questions, seek to find the challenges of others, and propose possible solutions.  Helping resolve challenges opens others to be able to view you in a positive light, thus encouraging the connections you want to seek you out.  Providing value in this way requires a long-term outlook, while simultaneously providing a most advantageous result. 
In addition, the goal of a conference should be quality over quantity.  Diving past the surface level conversations to create valuable and meaningful connections will be more conducive to long-term goals. 
4. Follow-Up  
Keep in mind, meeting and shaking hands with people are just the beginning. The real work in any relationship comes from the maintenance.  Contrast one of your good friends asking for help versus someone you have not spoken to in over a year.  One feels genuine and is likely to receive a positive response, where the other likely gets ignored.   
In professional networks, the goal is not always to become best friends; however, like any relationship, you need to build up your "emotional bank account." This comes from follow-up conversations, creating authentic, respectful relationships, and building professional trust before seeking anything more from them.  In personal relationships, researcher centers around a 20:1 ratio of positive interactions to negative interactions. The ratio is most likely smaller in professional relationships, making each interaction extremely important.  Positive responses are obtained through contacts of value prior to that point: follow-ups, follow-through, and simple acts of kindness. 
5. Stay Open-Minded 
Open-mindedness, arguably the most important step. As humans, we all have a limited amount of knowledge: we "don't know what we don't know." You may be a successful physician with the intent of seeking to better understand new investment options in real estate. But through the power of network, you may run into someone looking to start a new tech-focused real estate software package.  You may connect with someone that is the right match to go from a passive to active role in real estate.  But these investment opportunities are only available through broad-minded networking.  
Keeping an open-mind creates a positive pivot that catapults you to a direction you never imagined.  
At the end of the day, studies of older individuals show that their personal relationships are the most important factor in their lives. Many of these personal relationships stem from a common career and finance focused goal. Goals that can be established at a well-rounded conference.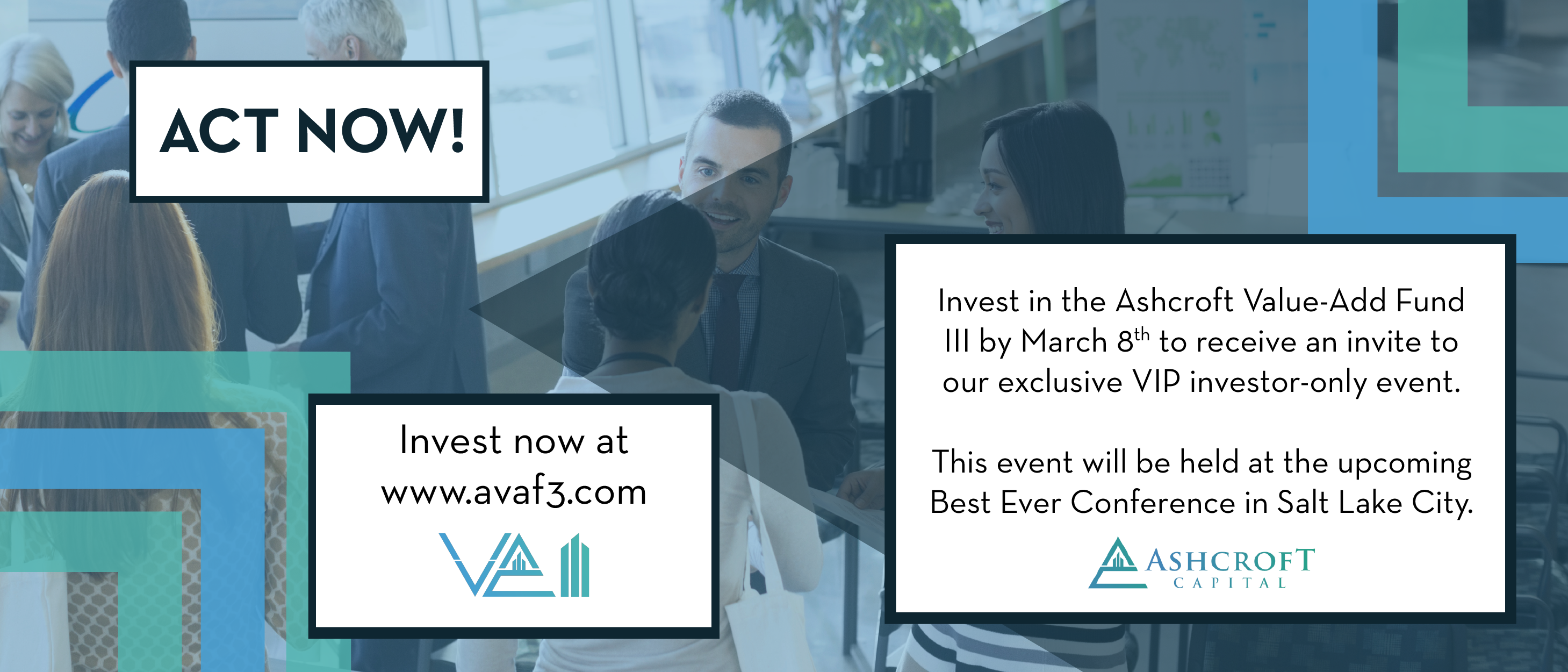 Join 1200+ investors, operators, and syndicators at the Best Ever Conference in Salt Lake City, March 8-10 for three days of learning, unparalleled networking, and making deals. www.besteverconference.com. 
Save 30% on your ticket with promo code ASHCROFT23.
Invest in AVAF3 here.